NetSuite Native MRP Software
Skip the expensive and time-consuming software integrations by installing Intuiflow via the SuiteCloud Platform.

There's a better way to model, plan, and manage supply chains in NetSuite. Intuiflow for NetSuite is an industry-leading suite of Integrated Business Planning solutions that helps planners get ahead of fast-changing markets. With a version built native for NetSuite, Intuiflow uses proven Demand Driven principles to align operations to actual market demand. Incorporating both near-term material requirements planning and long-term operations strategy, it will help you improve service levels, compress lead times, and increase visibility across the supply chain.
Elevate Your Material Requirements Planning
Intuiflow elevates material requirements planning by aligning replenishment not to forecasts but to actual customer sales. Powered by proven Demand Driven methods, Intuiflow's inventory buffers provide a visual overview of which materials you need to buy now, while intuitive recommendations ensure smooth material flow without complex algorithms or spreadsheets.
Streamline Long-Term Planning
You can't see the future. But you can make sure you're prepared. Intuiflow's add-on S&OP software module brings you deeper insight into long-range resource planning for even greater operational stability. Leveraging real-time demand data and a range of future projections, it powers improvements in inventory position, service levels, and lead times and helps build more agile operations.
Inventory Planning & Management
Maximize performance with strategic buffers that ensure constant material availability and automatically adjust to changes in demand. Reduce inventory costs while ensuring the smooth flow of materials throughout your supply chain. Anticipate and address potential stockouts and easily incorporate seasonality and promotional trends.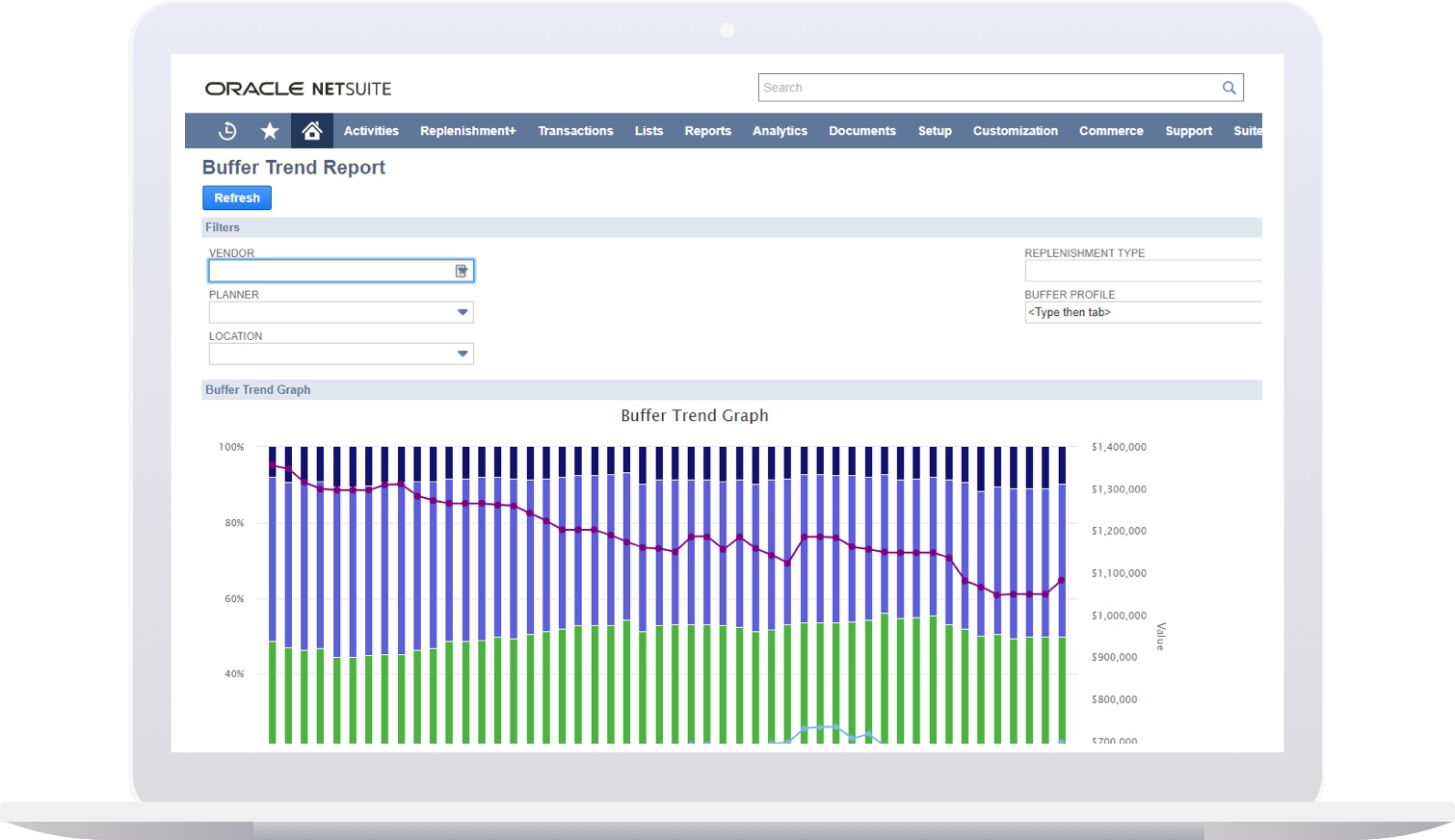 Increase Organizational Alignment
Improve company-wide decision making with powerful built-in analytics that facilitate a detailed understanding of all required and available resources. Reduce waste, increase alignment, and set clear expectations throughout the organization.